Well, today's been a very uneventful day.
I had the day off as my lessons were cancelled, and I was planning to go to Liana's house, but unfortunately, the travel arrangements were proving difficult so I ended up staying put.
So in my attempts to procrastinate from things I should be doing, I'll write one more blog for the night, now that my blog is officially customized and set up all nice and what not.
So here's a little update.
For those of you not in the know, i'm in year 13, which to my american readers, is the Twelfth Grade. We're all about just over half way through the year, we've got 4 and a half months until we go on exam leave, and after my Psychology exams, i won't be returning to that wretched school ever again! However, I won't be leaving for University until around September time... ):
However, just recently, earlier last week, my University application form (UCAS) sent off, so now I play the waiting game. Apparently my top choice gets back to you within about 2 weeks, though this is a busy period, so I fear the wait might be longer :S
However, hopefully i'll get a place there and it will be amazing! I'm so excited to be going, the place i've applied for, Lincoln, (well, my top choice is there, i've applied for others) is so lovely, I hope they accept me, I would love to go to Bishops Grosseteste University College and I think I'd adore living in Lincoln, as I've been a few times and it's a lovely place to be.
As stated in a previous blog post, that can be found
here
I've been dying my hair a lot recently, attempting to regain my previous bright red tones... and whilst my hair is a much brighter shade red now than it has been previously, it's still rather dark at the ends and the only solution other than absolutely frying it to shit, is every time the roots need doing, dye it with a dye that has lightening agent in it, added peroxide on top of the already existing content, this means over time i'll have really bright red roots, and brightish red tips, until it grows out, even if it doesn't lighten the ends any more, it will at least ensure that the new hair growing through will be vibrant and lovely! But i'm just glad to have more noticeably red hair again :D If I suddenly come across a new way to make it super bright, i'll make sure to let you know! I can't tell you how endlessly I searched blogs and forums for, trying to find a dye that lightens sucessfully from dark hair, thankfully I've managed to find a couple of good dyes for that... by the way, if you want super vibrant hair, at a really good price, go for this brand.
I used this type, Hot Red, it was the brightest I could find, they do other colours, but the website doesn't listen nearly as many as they have in stock, for some odd reason...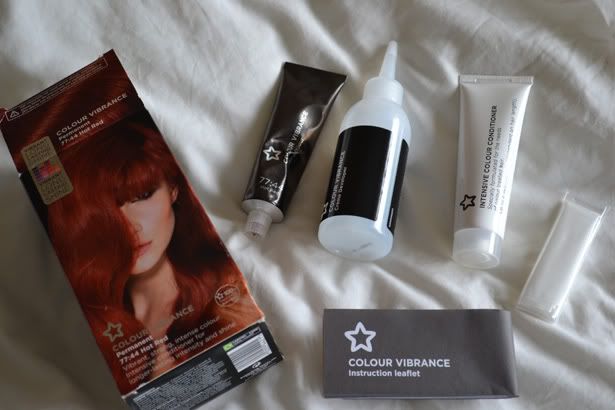 You get this very typical kit (sorry to whoever's photo this is, I found it online because I threw all of mine away... eep, rookie mistake!)
If you want to go bright, it's a safe bet, at only £2.99, it's completely worth it and more! The more you use it, the more it works on lightening your hair, for extra dark hair i'd leave it in for an extra 10 minutes. I've taken to leaving it on a little longer anyway, just to make sure my hair can really lighten properly and soak up all the colour.
One thing that did freak me out though, is when I mixed the colour creme and the developer, it went a purple colour in the bottle... after a while of shaking I applied it to my hair, and in some places it was coming out of the bottle red, and in others it was coming out purple, i was really scared i was going to get streaky hair, but eventually, once the air got to the colour and it had time to settle, all the purple turned to red... thankfully!
Here it is in all it's glory, compared to it's former dark colour...
My irritated face was because i had just put Live XXL Luminance Red on my hair, designed to lighten (and at £5 something a box, i would hope so!) and it barely changed the colour at all.
So as you can see, large improvement, i've just got to work on getting it gradually brighter now (: maybe this time next year, it'll all be okay xD